Hi Everyone! I know it has been way too long since I've updated. I have been keeping too busy.
Well, so Nic turned one last Friday. It is so exciting and sad at the same time. My mom, sister, mom-in-law, and bro-in-law all went to get Nic's pictures taken. We were crammed in the little Sears photo studio! But it was great. Nic was in his usual, happy, love-to-be-the-center-of-attention mood, so he was all smiles! The only problem we ran into was that he wanted to take off everytime we sat him down.
We got the cutest pictues. Here are a couple of my faves.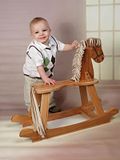 I cannot believe how big he is getting. Yesterday was his one year checkup and he is as tall as the average 19 month old! He was 32 1/2 inches tall; off the charts! His weight is finally starting to catch up; he was 22lbs 6 oz, which is in the 50th percentile. Yay! She said his height now predicted that he'd be 6'4" when he is an adult. I'm not really sure how accurate that can be since I was always short compared to other kids my age and then shot up to 5'8" in my sophmore year. Who knows.
So I was watching Ellen today and she is doing a show for women pregnant with their 1st child! I am so jealous! Why couldn't she have done that when I was pregnant? It made Nic's 1st birthday bittersweet as I realized I'll never be pregnant with my FIRST child again; I'll never experience my FIRST child's FIRST birthday again, and all those VERY FIRSTs I've already gone through! I mean I have enjoyed it all and everything, I just can't believe how fast the first year has gone! Everyone warns you it will fly, and it's not that I didn't believe them; I just could not fully grasp it until I start to realize it has already been a year! It makes me want to wait on more kids because I'm afraid I won't get to enjoy all the rest of the VERY FIRSTs if I'm preoccupied with another baby. Well, we have time to decide for now. No hurry! :)
Ok, that's all for now.
Bye!