Buhhhhhhhhhhhhhhhhhhhhhhhhhhhhhhhhhhhhhhhhhhhhhhhhhhhhhhhhhhhhhhhhhhhhhhhhhhhhhhhhhhhhhhhhhhhhhhhhhhhhhhhhhhhhhhhhhhhhhhhhhhhhhhhhhhhhhhhhhhhhhhhhhhhhhhhhhhhhhhhhhhhhhhhh.
ah. i love the holidays. :)
Christmas is the time in our family where we use the living room for the one time out of the year, we argue with each other over petty things that don't matter, and then we forgive as soon as we open presents... but its one of my favorite times of the year.
my family is truely blest during these times. many people don't get very much or maybe nothing at all, but my family is fortunate enough to be able to get most of what we want.
For instance: for the past three years i have been asking for a Maltese dog. However, i knew that i would never get one, i just wanted to put it on the list anyways. :) but this year, i put it down along with a 6' tall Johnny Depp poster. out of the two, i figured i was more likely to get the poster...
Mom left in the middle of opening presents to go over to our friends house and get a gift that dad "forgot to get". so as we are all waiting, i am anxious about the poster thinking that MUST be what she is getting from the house. Finally she comes back and tells me to close my eyes. I frantically scream " SIX FOOT TALL JOHNNY DEPP, SIX FOOT TALL JOHNNY DEPP!!!" and cross my fingers. [[if any of you know me, you probably have already figured out that i was on the verge of crying just at the thought of that poster being mine.]]
Mom tells me to open my eyes and this is what i see:
...I cried even harder over this.
his name is Charlie.
he's only four weeks old :)
we fell in love with each other...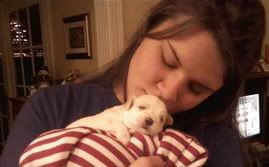 Best christmas ever!
[even though i didn't get the 6' tall Johnny after all]
cooking dinner.
tired.
want to go to bed.
but i have homework.
boo.


time to eat now.
yay.
hair.
new cut.
new color.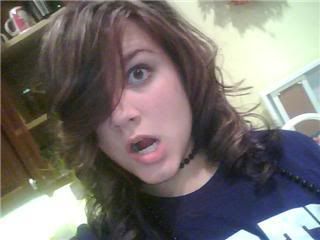 amazing.
i am so blest to have a sister who takes care of me so well!!! I love ya lauren! thank you
sooo
much!♥
Falcon Days was amazing. I loved being down at FC with all my friends. Me and my future roomate Sarah Nale had a blast and it was super cool to actually see what it will be like for us when we are actually down there : )

The trip was LONG. but definately durable. I was in the back of a 15 passenger van with 3 other people in my seat and we all got to know each other MUCH better! I now know that you really can find comfort even in the tightest of situations. ha.

I thank God that we were all very safe and that it was a pleasant trip. I know He had a lot to do with how things went down there and I pray that He will continue to be with everyone even as we go our seperate ways. I realized that I may let God down a lot, but because of His infinite love and grace I can always find forgiveness and peace if I just look to Him. Please pray for me to keep this kind of attitude as I journey through my life these next couple of years.

I hope all of you are doing well.