You are all invited!!!!!
Speaker: Danny McKibben
Date: Oct. 21-26
Time: 7:30 P.M.
Location: Church of Christ in Zanesville, Ohio
Yes, I finally did it!!! Here are pictures of my car Dori and my old car Hilda.........................
Dori =)
Dori again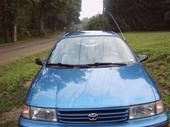 Hilda
Soooooooooooo, Guess why I'm smiling. =) Ok, ok I'll tell you. I MET TEDDY GEIGER!!!!! In case you don't know who he is, Teddy is an awesome singer, musician, & song writer. I got to see him play at the House of Blues in Cleavland, Ohio. It was sooooooooooo awesome!!!!! Anyway, after the show was over, my Mom, my sister and I waited in the parking lot behind the back door of the building, not for Teddy Geiger, but for people who were supposed to give us easy directions back to Newark (where we live). So we waited and I was thinking that maybe Teddy would come out the back door so we might get to meet him after all. My Mom knew that I reeeeeally wanted to meet him so she went over to the back door and stood there waiting for him. Well,............ Teddy finally came out and my Mom went right up to him and stuck out her hand to shake his, saying "Hi Teddy, I'm Amy!". Thanks to my Mom, I got to meet him, he signed my hoodie, and my sister and I got our picture taken with him. =)
I hope that all of you are doing super great!!! Take care everyone!
-Kristin-