This is a week late, but last Monday (7/13) Kacy and I celebrated our 2 year anniversary! I know everyone always says this, but I can't believe its really already been 2 years! It seems like so much has happend in that amount of time and there is so much more to look forward to. We celebrated by going down to San Diego, spending the night in Old Town, went to La Jolla, Coronodo Island and explored some museums. That night we used our Sea World passes and saw the summer night shows. We had a great time!
La Jolla
Since its been a while since I updated, I thought I'd mention the trip we took up to Big Bear for 4th of July weekend. We stayed at some friend's cabin and took Ollie (my dog) and Moose and Honey (my parents puppies). It was interesting having 3 puppies but we had lots of fun with them! We had fun 4-wheeling in my dad's jeep.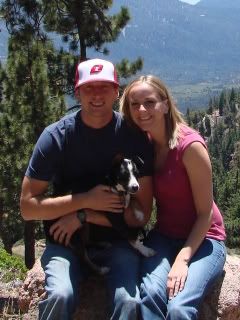 My summer so far has consisted of school and work but I've enjoyed these fun weekend trips as well. Kacy left last Friday and won't be back till this Friday - I really miss him! He went to Birmingham for the weekend to spend time with his friends and parents and then today he went over to Atlanta for the rest of the week for Chick-fil-A classes.
In a few weeks we'll be in Birmingham for a week with his parents, sister and her family and brother and his family. It should be lots of fun but I'm really questioning why we picked August to go to Alabama!? It's going to be so hot and humid!! Oh well!
Hope you're all staying cool in this summer heat! We have no AC but are trying to survive!!