jacobreaves... This is for real!!
Some of you have heard of my deadly record... that is, how many cell phones I can pulverize in a short time. Josh has seen two old friends drown in the washing machine (within a few months) and my latest near fatal victim, just last week. I have only had a cell for a few months now as I was purposely bucking the trend until it just wasn't fun anymore. So, naturally, I'm still not always remembering to charge and tote the flashy accessory. Last week I remembered I hadn't seen the phone in a day or so, so calling several times while pacing the house... heart racing head pounding... until I finally hear that familiar tune (which I still can't name, since I don't know how to change the ringer) in the garage. In a trash bag to be specific. So... if you call me an I don't immediately answer, I just may be wiping away the raw egg :)

A conversation I over heard the other day:
ABBY: "Mia come here, we have to make a birthday cake for Mommy. She's turning 100!"

Unrelated question for you all:
We're switching some things around in the house and looking for some fresh ideas. Mia is (finally) out of her crib (my bad) and two twin beds are now in Abby's room. (we're still in the painful part of the transition but have faith it WILL work!) Mia's room will be the new office and Josh's old office will be our new (drum roll please) school/play room! I'm planning to start homeschooling Abby in September and want to be way ahead of the game. So I'm looking for ideas on how to set up the room and just know you all will have lots. Its an average bedroom, with a small bath and good size walk in closet thats shaped like a house and has a window. I was thinking of making the closet like a playhouse for Mia to be occupied but still nearby. So give me ALL your ideas: tables, colors, designs, good places to look for bulletin board material, maps, themes... I'm excited and overwhelmed. So, what'ya got?
Its silly, its actually a man-made imaginary thing but I have always been crazy about the turning of the calendar! I get so excited about the possibilities, the chance for a fresh start and am SO motivated to change and improve. I always make a list of resolutions and map them out over the year's calendar. Does anyone else do this?
Thanks for asking about our trip: It couldn't have gone any better. The drive was so much fun (I came from a family who never drove anywhere) and the whole trip an adventure for the kids. Let me back up a little. Its always easier to just post pictures than to go into length... so here's our December in a nutshell:
In the beginning of the month Jeb and Shiela visited for a week. These sweet cousins get precious little time together these days, so it was very special to have them all here. (oh yeah, Jake came too!)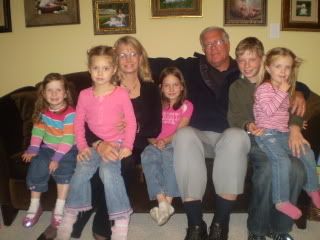 The drive was long but I was so motivated I drove the first 8 hours (9pm-5am) stopping only for gas and coffee. (to anyone who knows my driving... this is a big deal!) We were tired but excited at this truck-stop.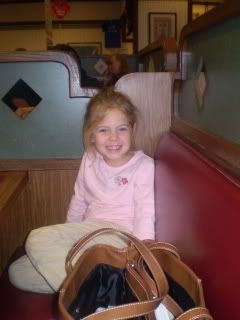 The first order of business upon arrival was snowman building. It had been talked up for several months. How many kids get to build a snowman with their great-grandmother? That was cool!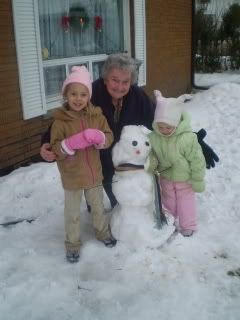 Of course we had a great time with friends and fam - here are a few of the kiddo's in Ontario (you probably know some of their parents... think hard, the church is small in Canada!)
On the way home we broke up the trip with a long awaited visit with some very dear friends. Here's Abby and HER dear friend Willow.
Happy New Year to all and may God fill every need with His most precious blessings.
One of Josh's clients turned friend of ours obeyed the gospel in baptism yesterday! Please pray for Darrith as the first months after conversion are so critical to one's growth. Praise God that His message is so plain yet His promises so unfathomable!

My schedule for the next few days:
-Today: emergency root canal
-Tomorrow: pack, prepare, get car from shop, drive to Canada

I'm wondering which will be more painful: the root canal or 15 hours plus snow delays with kids?! Ha!

Happy Holidays and safe travels to all!
Hey all! I've been loving finding you all enjoying time spent with family and admiring all those happy pictures. How blessed we are. My folks, sister and bro-in-law just left a few days ago... we had such a wonderful visit. We checked out the coolest Christmas lights I'd ever seen at a lake resort here in town, the kids got a wee bit spoiled, (yes I AM paying now, but whats a grandparent to do?!) and learned the most ADDICTIVE board game called "Settlers of Catan". We are now accepting reservations if you'd like to stay with us for a weekend to play - it would be well worth your trip!
A little update on other fronts, some of you have been asking about Josh's schooling. He passed his series 7 financial advisor exam and has changed jobs - he's now doing investments with Fidelity. As much as this kind of change is a bit frightening, its been exciting and inspired a lot more prayer!! ha! The girls are great - getting ready to see their cousins as Jeb & Shiela will be up from MX this weekend, and to drive to Canadafor Christmas. (I know - we just saw them but this was the plan for a year and a half now and we decided just to go with it)
Finally, the 'flip' is under contract (again) but looks like it will be off our hands before year end so any guesses what I spent the day doing today? You guessed it - pre-foreclosure shopping... with three preschoolers! Here we go again :)