I'm sorry, but I find people who get self-worth by blood lines to have an inferiority complex barely covered with a thin layer of what appears to be arrogant pretentiousness. Incredible endurance? Tell me your story!! A life of selfless ambition? I'm in awe. Amazing world-improving accomplishments? That's so cool. Outstanding personality? Let's do lunch. But when people believe themselves to be superior because of blood lines? Yawn. Unless we start having people shows like dog shows, best get over yourself right about now. This post is not about that. The intention of this post is twofold: comedy and fascinating trivia. Last summer as I was unearthing this information, I would call my daughter, read to her excerpts from our family history and we would laugh hysterically. The humor lies in the irony of the fact that I know who I am: a short, middle-aged, slightly overweight high school graduate with an average income who barely passed the civil service test to apply for work in my county. True, my soul is worth more than the world, and God has given me opportunities to use my talents, but that's not me, that's Him. He gave me both the talents and the opportunities. I know my weaknesses. I don't know why despite them I have the confidence of a young, intelligent super model with a PhD - but such was probably the brainwashing of first a good mother and then a kind husband. I have accomplished relatively nothing by this world's standards. Such is not the case with my ancestry.
Here's the joke:
I found out about five years ago that my mother Lucy Lillian Perry is a descendant of Commodore Matthew C. Perry.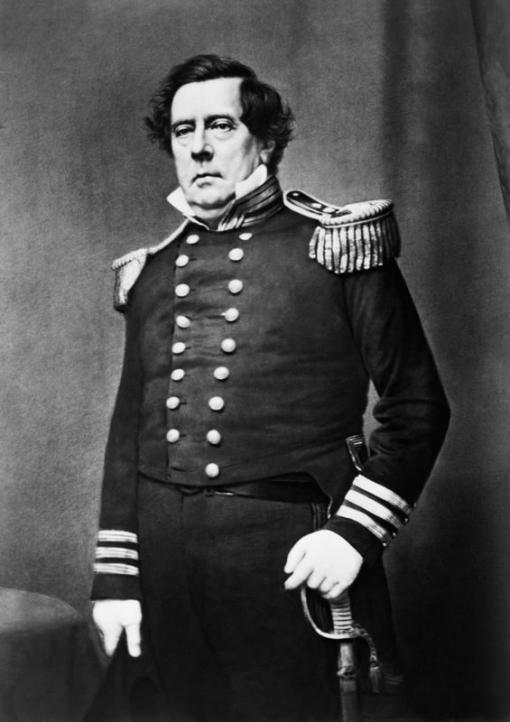 See. He obviously had the same desire for fabulous, flip up hair.
Note: I like to make up connections with ancestry as to where I got different aspects of my constitution. I've decided it is from the following two relatives that I want to be in the ocean surfing, or rafting in wild white water, or zipping around a lake on a wave runner.
Perry is cool because not only did he suppress piracy and the slave trade in the West Indies, on March 25, 1822, Perry sailed to Key West and planted the U.S. flag, physically claiming the Keys as United States property.
Other facts:
• Perry had a considerable interest in naval education, supporting an apprentice system to train new seamen, and helped establish the curriculum for the United States Naval Academy. Hey. I write curriculum too!
• In 1843, Perry took command of the African Squadron, whose duty was to interdict (prohibit) the slave trade . Rock on. Stupid slave trade.
• In July 1847 he attacked Tabasco personally, leading a 1,173-man landing force ashore and attacking this Mexican city from land. (This does not mean that he screamed "I can't stand this condiment!)
• Among other mementos, Perry presented Queen Victoria with a breeding pair of Japanese Chin dogs, previously owned only by Japanese nobility.
• The anime cartoon in Japan called Sayonara Zetsubou Sensei depicts Commodore Perry as a "troubled foreigner who isn't satisfied by opening ports and needs to open everything". A family trait: Always pushing the envelope
• The faster-than-light spaceship in the novel Homeward Bound is named Commodore Perry.
Best of all, Perry "opened" Japan to not only trade,
(by out-stubborning them)
which also opened them to receive the gospel through missionaries. Kind of ironic we've hosted about 13 exchange students over the years and tried to share God with each one of them :D
Here's how the Japanese explain this event in THEIR "blog post" :
And here's what they say he looked like:
Like a man who would do this:
"Perry refused to abide to demands to leave. He then demanded permission to present a letter from President Millard Fillmore, and threatened to use force if the Japanese boats around the American squadron did not disperse. Perry attempted to intimidate the Japanese by presenting them a white flag and a letter which told them that in case they chose to combat, the American would necessarily vanquish them." [Wikipedia: from which is most my info in this post]


And here's a commemorative stamp:
____________________________________________________________________________________________
Soon after discovering this connection, I found that since we're related to Commodore Matthew Perry, we're obviously related to his brother, Oliver Hazard Perry:
As a boy, Oliver lived in South Carolina, sailing ships practicing for his future career as an officer in the US Navy. He served in the War of 1812 against Britain, and at the age of 27 earned the title "Hero of Lake Erie" for leading American forces in a decisive naval victory at the Battle of Lake Erie.
"The personal conduct of Perry throughout the 10th of September was perfect. His keenly sensitive nature never interfered with his sweetness of manner, his fortitude, the soundness of his judgment, the promptitude of his decision. In a state of impassioned activity, his plans were wisely framed, were instantly modified as circumstances changed, and were executed with entire coolness and self-possession. The mastery of the lakes, the recovery of Detroit and the far West, the capture of the British army in the peninsula of Upper Canada, were the immediate fruits of his success. The imagination of the American people was taken captive by the singular incidents of a battle in which everything seemed to have flowed from the personal prowess of one man; and wherever he came the multitude went out to bid him welcome."
~ George Bancroft
Oliver Hazard Perry notified battle headquarters of their success with the now famous phrase "We have met the enemy and they are ours". Here he is celebrating with his buddies:
He looks rather like Elvis Presley I think.
Here's his battle flag:
I love that motto, and believe me, I know what it's like to want to jump ship. Good reminder. Thanks, Ollie.
When I read a book about Oliver, three quotes caught my eye:
1)
"His fragile constitution was unable to tolerate the extreme heat and humidity of a southern summer, forcing him to request that his vessel be transferred back to northern waters."
I can relate. HATE the heat. Get me out of the heat and I can accomplish all kinds of things, but not as much as Ollie:
2) Once he's up north, he's been assigned to win a battle against the nation of Britain, but he has no warships. Bummer... Oh well.
"Over the next two months he coped with the unrelenting practical and administrative difficulties which would arise while he struggled to build and fit a flotilla of warships in the wilderness. In 1813 Erie was a small village of only 400 people with no industrial capabilities...the only material available in abundance was virgin timber...At the outset there was no iron for nails, so wooden nails, or treenails, were improvised..."
I've spared you the details, but the point is, he goes on to build ships from scratch so he can win The Battle of 1812. I hope I got some of that "nothing is impossible" ambition.
3)Then I read THIS blow me out of the water news:
Commodore Oliver Hazard Perry (August 23, 1785 – August 23, 1819) was born in South Kingstown, Rhode Island, the son of Captain Christopher Raymond Perry and Sarah Wallace Alexander, and a direct descendant of William Wallace. WILLIAM WALLACE. You mean, like, William Wallace, guardian and high protector of Scotland:


I feel his Brave Heart in me sometimes. Like last week when I got in the face of a man wearing a T-shirt that said "Jesus is a ****" , I bought and handed him a copy of a newspaper, told him to look at my face then look in the newspaper for my face and the [gospel containing] article next to it. FREEDOOOOOM!!! William Wallace probably did not look like Mel Gibson. And I'm sure much of this movie is embellishment. But I tell you when I watch that movie now, it feels a bit eerie like I'm watching a home movie from a previous generation. :)
Next Post: My Father's side.