Hello! It's been forever since I've updated. Again. Sorry... I don't have ANY time to keep up with these fun things anymore!
Things are going good. I've learned that I really thrive when I'm super busy. I guess we kind of knew that all along... It's a different kind of busy...things are changing around here.
We're still LOOOOVING Savannah. Love love LOVE it!!!
I kept meaning to post about St. Pat's day here...but it took me forever to get my pictures on the computer b/c well...I just don't sit down long enough to do that! ha!
St. Patrick's day is HUUUUUUUGE in Savannah. The town shuts down...schools out... It's a big deal. I guess the closest I can relate it to would be Mardi Gras....it is a huge party downtown... Anyway, we took the girls to Tara Feis...it was a ton of fun!
Makenzie LOVED watching the Irish dancers!
We went to Forsyth Park to see the fountain that they dye green
Had ice cream at Leopold's - YUMMY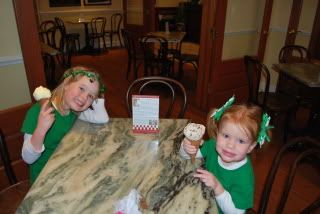 Brandon had to work the day of the parade....but I really wanted to go so I took the girls, we picked up Makenzie's friend Timmy & his mom & off we went. It just so happens that Timmy's Dad is on the bomb squad...so we got special parking! Also, his mom has a friend that lives on the parade route...meaning brunch & clean potties! What a lucky day! They ended up leaving early, but we stayed the whole time (it was like a 4 hr parade!) and then we went to City market to have pizza at Vinnie's before it turned into a drunken idiot fest.
A leprechaun
NYC Firefighters come every year...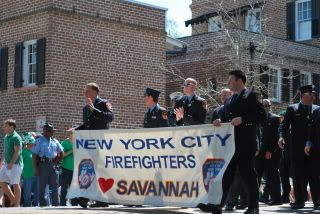 Lots of Bag & Pipe bands....the girls & I really loved them!
The green goat...
Got a little loud for little Annie
Ok...so the deal is...all the girls/women run out & kiss all the men in the parade...usually with bright red lipstick on...leaving bright red lip prints on the poor guys. (I'm sure they hate it...right?)
So Makenzie kept asking...WHY are they doing that??? Then...the next time the girls around us all ran out to kiss the boys... One of the firefighters ran over & gave Makenzie a big 'ol smackeroo & some beads!
So while all the other girls were out chasing the boys....Makenzie had the boys chasing her...ha!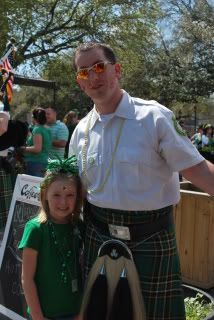 Little Annie thought she needed to run out & pet all of the dogs in the parade...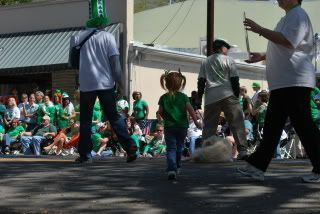 Being St. Patrick's Day...Annie got a lot of attention for her red hair!
Annie got a badge from the NYPD...
Budweiser Clydesdales
Thought this was funny... It said "Naz T. Butts" and was a big cigarette...with a huge rear... it was silly.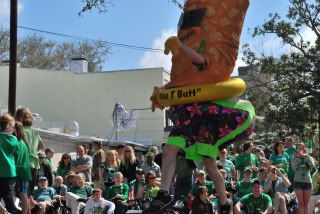 Me & My Girls!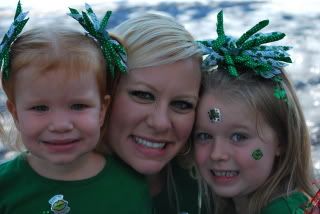 Annie got worn out!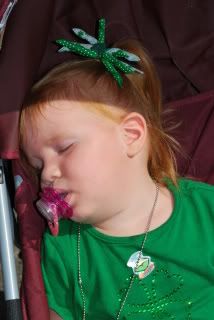 Makenzie wanted to eat in City Market at this yummy pizza place...she ate almost this entire piece of pizza...it was HUGE!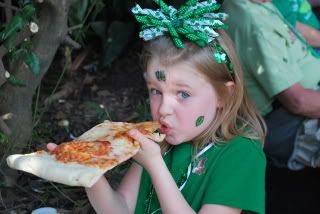 So yea...it was a lot of fun! Definitely something we needed to check out while we live here!
My angels making cookies. They're such wonderful little cooks!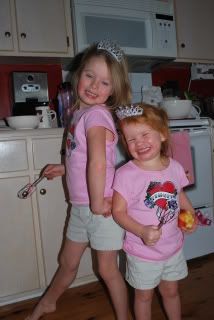 Please ignore my disaster of a closet - it's been on the back burner until I figure out what to do with all the stuff I need to get rid of. Anyway, that trashcan is where we keep the dog's food.... Annie was trying to be a good little helper & feed the dog!
Downtown...
Annie chasing a duck
Makenzie & her new best friend, Timmy
Ok...that's all I've got time for today. I need to update more often. Somebody remind me... ha!
We're doing really good.
Makenzie is excelling in school. For those of you who are not familiar with the Montessori method, I strongly urge you to check it out...especially if you have children. It is FABULOUS. Makenzie is so sweet & caring. She's such a wonderful little helper. And wow...the kid is getting BIG. She's so independent & is NOT my baby anymore! She's so grown up...it's so hard to accept that! ha ha
Annie...well, what can I say....Annie is Annie. When I picked her up from school the other day she was a bit......disgruntled. You need to hear Annie talk to fully appreciate it...and her facial expressions are HYSTERICAL. I don't know where she got it...but she shakes her rear & her head when she talks... it's the funniest thing ever. So here's what she told me:
Mom...this gul told ME that I's a BABY...not a big gul...SHE'S a big gul. So I telled hur that I AM a big gul...and SHE'S the baby. She said I hut hur feewings...and I telled hur I was UPSET.
I made her tell me the story at least 5 times...because the way she told it was absolutely PRICELESS.... She is such a sassy little thing. Where'd she learn that??
Her favorite thing at her school is this purple Disney princess scooter - 2 wheels in the back, 1 in the front. We went to a consignment sale on Talahi island last week (right across from our island) and found a PINK one for......how much you ask? A whopping $5. SOLD. I gave her a $5 bill (she paid me back)... she placed it in the basket on the scooter...rode the scooter to the cashier...paid...and rode it to the car. I don't think it's left her foot since. I've been a horrible mother & allowed the scooter in the house... it is a riot to watch her on that thing. She can go SOOOO fast. Who knew. Annie is a very, VERY smart little girl...and she ALWAYS has us doubled over laughing at the things she says. It is such a challenge to discipline her (or even reason with her for that matter!) because of how funny she is!
Ok...I've GOT to go now...need to go pick up Annie at school & run some errands.
We're going to Charleston, SC this afternoon for a couple of days. It's not far away at all so we thought we'd give it a shot. :) I'm super excited.
Brandon's mom will be here Monday - Saturday...we're thrilled. Makenzie has the week planned out: Downtown to eat pizza at Vinnie's, shopping, go to the mall, go to the candy store, go to the beach, go to the park.... sounds like we'll be busy!!! ha ha
Hope everyone is doing well.
Oh - I got a new phone & lost most of my #s...so if you want me to have your phone # please text me, e-mail me...whatever...
Have a great weekend!!!