He's finally here!
It was quite the experience, but it was all worth it. It's actually a great story, so I'll tell the short story. We had been planning for a waterbirth, so for us to do that, Sam had to be at least 37 weeks along. So, as soon as 37 weeks came, we kept telling him that he could come any moment, and we'd be ready for him. There would be days where Sam would have Braxton-Hicks contractions for an hour to two hours at a time, but then they would always stop.
We hit 39 weeks and we found out that Sam's mom was sick and in the hospital, therefore we had to go to plan B. We had to start telling Amos that he had to stay in until Nana was out of the hospital. She was in there from Sunday night until Thursday night. So,
Trisha
picked her mom up in Bowling Green and got to Atlanta around 3:30pm on Friday afternoon. We had prayed and prayed that God would let Amos wait until her mom got here and now that she was here, we started praying that Amos would come anytime. Well, we visited a little that afternoon then got ready to go to dinner. For dinner that night we were going to a restaurant here in town that is known for their eggplant parmesean. Their eggplant parmesean is known for putting women into labor. The name is Scalini's and babies that are born within 48 hours of eating the eggplant parmesean and inducted into the "Eggplant Baby Club" (and mom and dad get a free dinner!!).
So, around 6:30 we got in the car to drive over there, and Sam had just started to feel some light contractions...but that was nothing out of the ordinary. Well, all during dinner she kept feeling contractions, but they were around 8-10 minutes apart and were feeling just a little bit different. While at the restaurant, I decided to call my parents just to tell them they might want to get things ready, because we might be calling them to come at any moment. Since they have a 10 drive ahead of them, they went ahead and started getting ready. On the way home from the restaurant, right before we got back to the apartment, that's when the harder contractions started. In fact one contraction came and Sam looked at me and said "I BETTER be in labor, because I cannot go through this again when it's the real thing!" So, we called my parents and they got in the car and headed over. Looks like God answered another prayer and 3 hours after her mom got there, labor started!!
We got back in the house and started timing all the contractions and they started around 8 minutes, and got down to about 5-6 minutes. We called our doula and let her know what was going on, and called the midwife too, so they could start planning. The contractions started getting stronger and stronger throughout the night. Our doula got here around 5:00am and helped Sam get super relaxed and walked her through every contraction. That's when I was able to get a little rest, because I knew that we had a LONG day ahead of us. Around 9:00am we decided to head to the hospital because the contractions were about 2-3 minutes apart.
We thought for sure that since Sam had been in labor for 12 hours now and contractions 2-3 minutes apart, then it wouldn't be too much longer. We got there and the nurse checked her out and she was at 2 cm...but during the check, the nurse made it 4 cm. We couldn't believe it. We thought it would have been more than that. But we checked into the room and really got started. Sam labored ALL day and ALL night and around 8:00pm the midwife did a check and realized that his head was turned a little sideways and that was why he wasn't making the decent down. So, they got her out of the pool and broke her water and then the pushing started. That lasted around 2 1/2 hours and right before he came Sam got back in the pool and then he came out! That was an amazing experience. I got to catch him and was the first person to hold him. I handed him to Sam and then the bonding started. He came out wide awake and he just stared at us and we all stared back at him. It was crazy and surreal all at the same time. And I will go ahead and add that Sam is a superwoman because she labored 26 hours and gave birth without a single bit of medicine. Like I said...a superwoman!
Then we all got to celebrate. All the family came in and it was just a happy moment. Amos was 8lbs 10oz and 19 inches long and he was born at 10:35pm on July, 11th. He is such a good baby. He sleeps a lot and feeds great. We couldn't ask for a better little boy. Sam is obviously tired, but overall we are all doing great. Thank you to everyone for all your thoughts, well wishes, and your prayers. I will leave you with some pictures of the cute little guy. See you guys later.
This was the pool Amos made his debut in.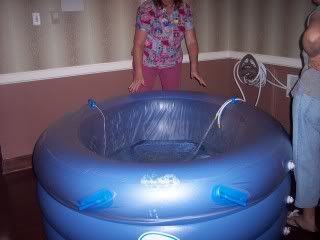 This is me catching Amos.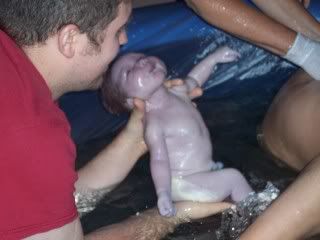 Our first moment as a new family.
I love the look on his face in this picture.
Wearing his first t-shirt.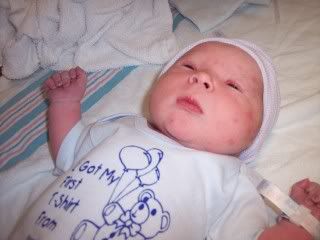 I have arrived!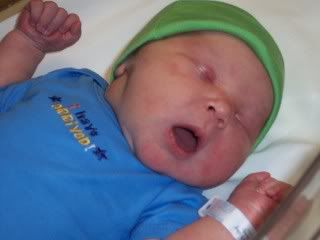 Ready to come home.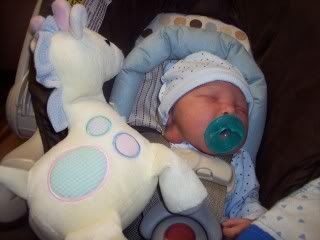 I hope you enjoyed the pictures!