Right now I have another window open trying to access the Southwest Airlines page. It's really slow this morning...so slow that I decided to do a pleo post.
We are going to San Antonio in October to visit my Grandfather (he just turned 94!) and aunt and uncle that he lives with. Our trips to San Antonio are alwasy a blast. We went last Christmas, so twice in one year is just a bonus! Even more fun is that Adam's parents are going also! They will be there for a wedding but then we are all going to spend a few days showing them around the city. So, does anyone else hate that you have to pay for a ticket for a 30 lb three year old???
We are having a yard sale tomorrow. Three of our neighbors and us will be having one, come on and look at the priceless junk that we'll be selling..lots of home decor that will never be used in the forseeable future. I have come to the conclusion that we probably won't ever have a guest room in any house that we live in...so the cute stuff to furnish that room is outta here. My closets look amazing. Everything is priced and in the garage. Hope it doesn't rain!
Speaking of neighbors...when we got home from our vacation our yard was mowed. We knew one of our neighbors had to have done it, but here's the kicker...we have such awesome neighbors that we didn't know who it was. I am really thankful for them, I know there are some crazy neighbor stories to be told...but seriously, we don't have them.
The SW page still hasn't loaded!
Here are some pics from the last few weeks...
Curtis and Amy
brought Will over a few weeks ago so they could run and errand and we offered to watch their new baby Josie too. We had so much fun! It was crazy, I'll admit it, and we only had them for about an hour. We did go on a walk with them all, 4 kids...yikes. Did I ever tell anyone that I would like to have four kids one day. Maybe not all 3 and under, though.
SWEET baby Josephine
Michael, the little ham
Claire and her "cousin" Lucy looking out the window for Pawpaw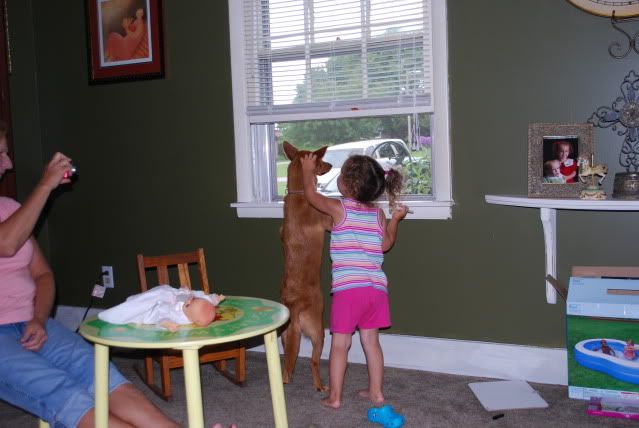 Nothing like a Pawpaw and his granddaughter playing ball
Well, except for a Pa sitting in a swimming pool playing with his grandkids
ps, the arbor/gazebo thingy in the background of the last few pictures is what Adam and I were married under. It's had a few structural changes in the past 7!!! years, but it's still in the backyard of Mary and Leroy's house, almost right where we were married!
Ok, SW loaded a minute ago. I'm about to go spend the kids college fund on tickets!