So September has come and gone, and I have been a horrible blogger! Since my last post about our trip to San Antonio, my grandfather who lived there passed away. It was not unexpected, but that doesn't even make the whole process any easier. I went down for the Memorial service by myself a few weeks back. That was weird. No kids, no husband, no responsibilities. Adam worked from home for a few days so I could go. I ended up getting a really horrible stomach virus while I was there, but I was better by the time for the memorial, so that was what counted.
What else...what else...Christmas was wonderful. THe kids were so very excited about Santa this year, Claire and Michael still talk about Christmastime. It really was a good one this year. I have some really fun pictures, but I'm just not in the Christmas posting mood right now. Maybe in a few months...
So this week Adam is working at the Nissan HQ doing some training so it's a extra long couple of days for us. On weeks like this, I need projects to keep me accountable, and to help me be productive. Here is what I've been working on. It's our upstairs bathroom. It has been halfway decorated for a few years now, so with some Christmas money, I picked up a few things at Hob Lob and finished it up yesterday. It's nothing spectacular, but it feels finished now...except for the shower curtain, and some embroidering on my towels.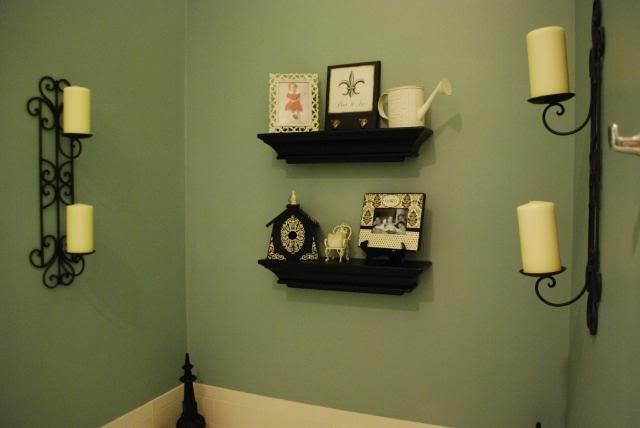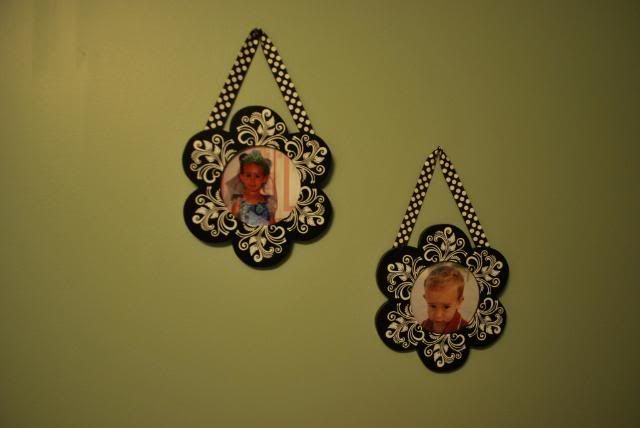 Also, last night I put up an Uppercase Living clock that I won off a friends blog. She sells it, and was doing a giveaway. I never win anything, so I'm pretty excited. I really love it. It's too low, but that's my fault...I'm not exactly a precise decorator. You should see all the holes in the wall behind the black shelves in the bathroom. BAD. I don't really believe in measuring tapes...Adam can't stand it.
So anyway, the clock looks great in the bonus room. This room needs some help anyway, but I don't think there's any hope for it. Too much junk, not enough closet space.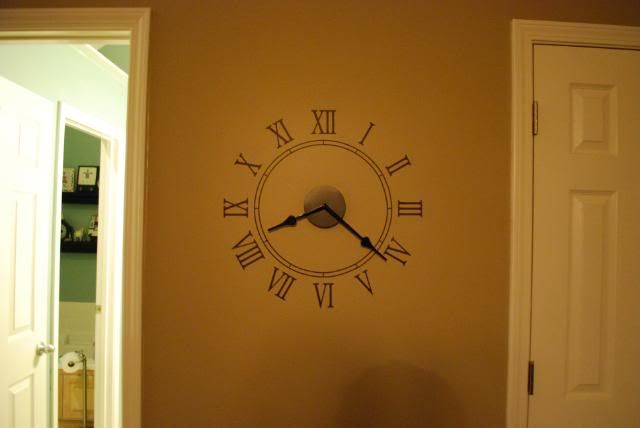 THE GREAT SNOWFALL OF 2010!!! Schools were closed...the day before this!
We sledded??? down the driveway. It has a slight incline, it was almost like real sledding.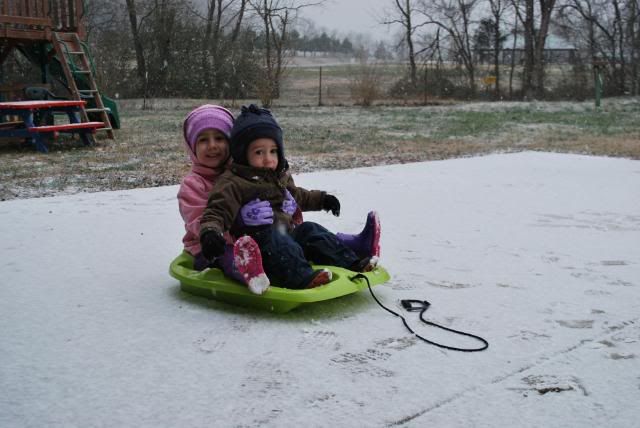 Really, all they wanted to do was eat the snow.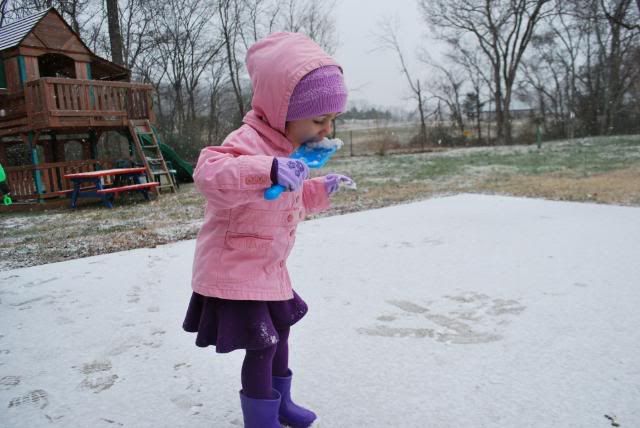 The weather last week was really mild, so we enjoyed the deck.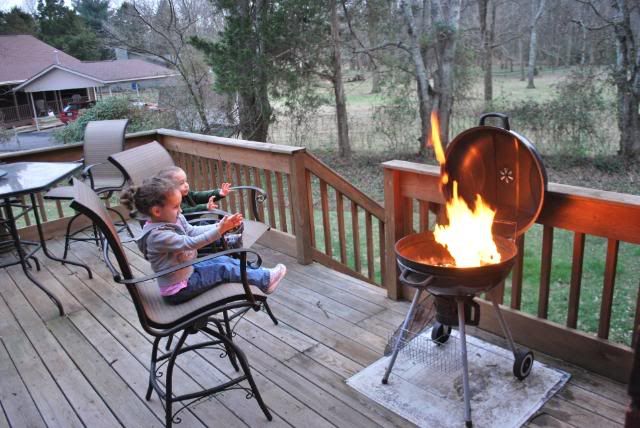 And the swingset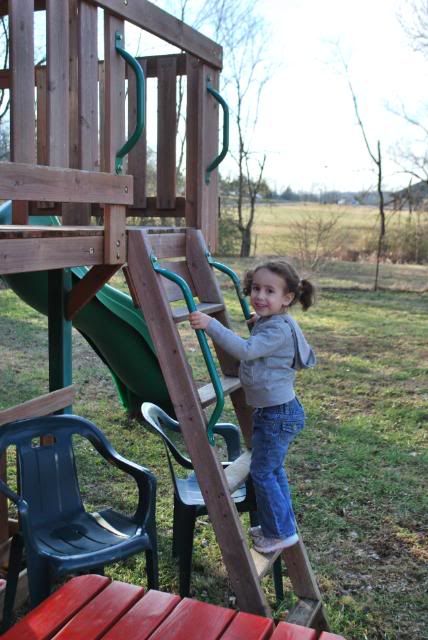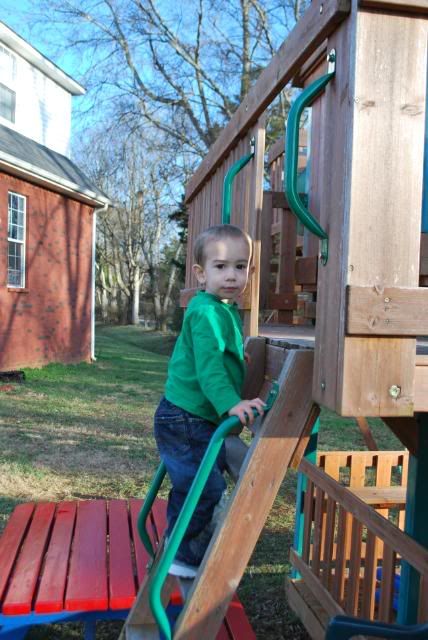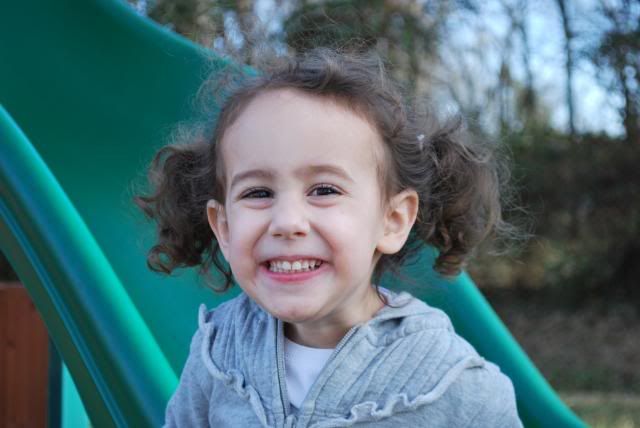 So far, it's been a crazy January, but I expect Feb to slow down. We are in the middle of a study in James, with some of the 'married with kids' and younger married couples at church. I'm teaching the first and second graders, Adam's off this quarter. The kids are crazy. They love each other so much. I remember people always telling me 'just wait till they're a little older and they can play together and be friends'...well, we're there. And it's wonderful. They don't know what to do without each other. Claire is really enjoying school, and Michael would love to stay there with her. Through most of the school day, Claire goes into the older kids room, to do activities with them. Yeah, that's a proud mom bragging on her smart daughter...indulge me =) She has made some good friends at school, and talks about all the 5-year olds, like they are the coolest ever. It's hilariuos. Michael is a stinker. And he knows it. He'll be TWO YEARS OLD in March. Unbelievable. My boy is a daddy's boy all the way. THere is noone in the world that holds a candle to his daddy in his eyes. It's wonderful. Ok, maybe if I can keep posting my next one won't be forever long. =)